In the past few weeks I've turned into a bit of a Suicide Squad obsessive. I've been watching the trailer on repeat as well as numerous reactor videos. Add this to the Batman v Superman trailer and the recent red band Deadpool one I've been in somewhat of a YouTube hole. I've always been a huge DC & Marvel fan and it looks like 2016 is going to be a good year. I can't wait.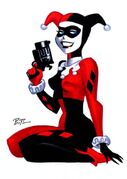 I'll admit though that before the trailer for Suicide Squad I didn't know too much about the characters. I've researched a bit as my obsession with Margot Robbie in the trailer has led to a bit of a Harley infatuation and I'm so intrigued as to how the character will play out. Strike me down hardcore DC fans but I hope the annoying voice goes! And I hope the relationship with The Joker isn't quite as abusive! I'm pretty sure he's torturing her at one point in the trailer which is dark but I hope there is a bit of a love story there rather than him just using her. I suppose I need to see some of the other adaptations to see if there is anything additional to the story. The snippets I've seen are pretty much Joker smacking Harley about.
Anyway, I'm rambling. Onto today's design. It's obviously inspired by the original Harley costume. I used two OPI shades from the new Venice range: Amore At The Grand Canal* and My Gondola Or Yours*. I tend to freehand everything but I decided on striping tape for this design. I marked off the diamond shapes on my ring and pinkie nails with striping tape to get a much neater pattern. On the rest of my nails I just used a bit of masking tape which didn't work quite as well but again was much better than if I had done it freehand.
Are you a comic book/film fan? Have you seen much of the Suicide Squad? Perhaps you can educate me!
Hugs
Emma x